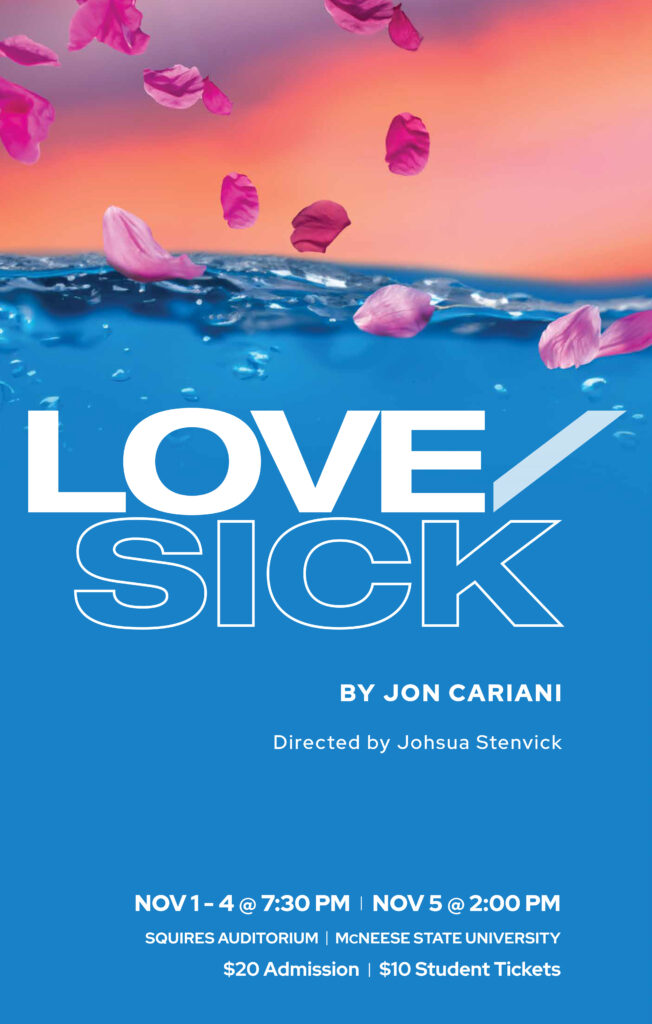 McNeese State University's W.A. and Dorothy Hanna Department of Performing Arts opens the fall McNeese Theatre season with the performance of the play "Love/Sick" at 7:30 p.m. on Nov. 1-4 and at 2 p.m. on Nov. 5 at 2 p.m in Squires Recital Hall.
"Love/Sick" by Jon Cariani is a collection of nine slightly twisted but hilarious short plays. The plays, set on a Friday night in an alternate suburban reality, explore the pain and joy that come with being in love.
Patrons will have the opportunity to celebrate opening night at a recepetion with the cast and crew following the production on Wednesday, Nov. 1.
This play is being directed by Joshua Stenvick, McNeese assistant professor of theatre, and the cast includes McNeese students Braden Magness, Juliet Riviere, Jacquez Morgan and Gabriela Quinones.
General admission is $20 and $10 for all students with their student ID.
"Love/Sick" can be important, and maybe even relatable, to audience members because there are many different areas of love and relationships that are explored in this show," said Riviere, a chemical engineering major from Lake Charles.
Quinoes, a mass communication and a theatre major from Lake Charles, plays five characters in the production and she says that acting has helped her connect to her inner child and fulfills her in a way that she never experienced before.
"I love acting on stage. Theatre is live and once the show closes it's gone, so that's its own amazing experience," explained Quinones.
The McNeese Theatre program gives students from all areas of study an opportunity to express their creativity and become storytellers. The students build close friendships with cast, crews and professors that feel like a second home.
"My favorite part of my college experience has been participating in McNeese Theatre. I am so grateful for the experience of performing in "You're a Good Man Charlie Brown," "Puffs" and "Love/Sick" because I am learning so much about the performing arts," Riviere said.
Morgan, a criminal justice major from New Orleans, started acting in 2019 for the McNeese production "The Shape of Things."
"It was an amazing experience, and since then, I figured out that being on stage and on camera were the best things that could have happened to me," he said.
All the actors agree that "Love/Sick" has something for everyone. It gives an in depth perspective of the many forms of love, dives into the trials and joys of love and is funny and romantic. The cast and crew are working hard to bring Love/Sick to life, according to Quinones.
"All in all, the play will be a fun experience for all who enjoy a good performance," Morgan exclaimed. Persons needing accommodations as provided by the Americans with Disabilities Act should contact the ADA Coordinator at 337-475-5428, voice; 337-475-5960, fax; 337-562-4227, TDD/TTY, hearing impaired; or by email at cdo@mcneese.edu