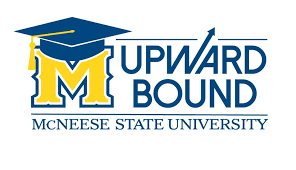 The Upward Bound program at McNeese State University has been awarded a $1.9 million five-year grant by the U.S. Department of Education, the largest amount awarded to the program in the university's history. Upward Bound was initiated at McNeese in 1986.
This federal program provides encouragement and support to low-income and first generation high school students to attend college through a variety of academic and nonacademic activities. By targeting students at high schools that have been designated as highest need, the program aims to increase enrollment in higher education institutions, improve graduation rates and prepare students for lifelong success.
"As an alumnus of Upward Bound at McNeese, I personally know the benefits of the program," says Desmond Wallace, program director. "Through Upward Bound, we expose students to financial literacy, cultural awareness and opportunities they can pursue through higher education — all elements outside of what they might see in their regular community."
At McNeese, Upward Bound consists of an academic year portion, which parallels the school year and provides students with access to tutoring, academic support and ACT preparation, and a six-week summer academy, which hosts summer classes for students, as well as cultural enrichment opportunities.
"We also provide our students with scholarships to attend McNeese in the summer after their high school graduation, which pays for two courses as well as tuition and fees," Wallace says. "This helps them acclimate to the college life while still having the support of our program and gaining the experience to be successful after high school. This grant will aid our students in overcoming those social, emotional and academic barriers to achieve success in education as well as life beyond high school."
Wallace says that he is extremely grateful for the hard work of the Upward Bound staff members. "Without their teamwork, this funding could not have been obtained," he adds. Applications for the Upward Bound program are accepted on an ongoing basis. For more information about the program, contact Wallace at 337-475-5444 or upwardbound@mcneese.edu